COLOUR TREND: Sunset Touch
As the year 2022 comes to a close we at Gustav Fouche are always forward thinking and looking ahead at new trends for 2023. An exciting new trend is a technique called Sunset Touch which is one of our salon predictions as being super hot for the new year. Our Senior Stylist Anamaria did this colour technique on a client recently and the result was delicious.
So what is Sunset Touch? 
Sunset Touch is a trend based on the beautiful colour of the sunset. We all have had that moment when we take out our phone because we can't resist to capture the beautiful colours the sky - it is these colours which have inspired this trend.
So what colours are we talking about when we talk about Sunset Touch? Sunsets are like a rich kaleidoscope of vibrant warm colours, so it is important to divide sunset touch in two categories; the sunset blonde and the sunset copper and brunette.
Sunset blonde
The Sunset Touch colour for the blonde spectrum would include our golden blonde, rich and warm tones. Think of that moment when the sky turns a beautiful golden colour and that 'golden hour' selfie when the sunlight is so warm that it makes our skin look like it's glowing from within - that's what we want to achieve, rich golden hair that makes you look like you just had a facial.
Then we have our pastel colours with baby pinks and rose gold. Pink hair has been around for a long time, but we are not talking just about bright pink hair, we are talking about incorporating these tones of pastel pink into an everyday look. Pink is no longer just for the adventurous clients that want to make a statement, but instead it is a wearable tone and would look incredible in many clients hair. This is the Sunset Pink, which is a cross between pink and blonde and is a spectrum that can range from a rose gold to a blonde with soft hints of pink.
Sunset Copper and brunettes
For our coppers and brunettes, think of the summer days when the sun is so hot that the sunset turns the sky red. Instead of our usual orange copper and chocolate brown tones, we love that the Sunset Touch trend brings a hint of red or an orange red (think the inside of a grapefruit) - the colours of heat that shout summer holidays. The red tones can be bolder or more subtle depending on the hair and the clients preference.
Now that we know what the Sunset Touch colour palette looks like, it is important to separate application into categories; the more commercial, everyday application and the editorial fashion application (which can be used for fashion shows, photography or even for more adventurous clients that like to take a risk and stand out).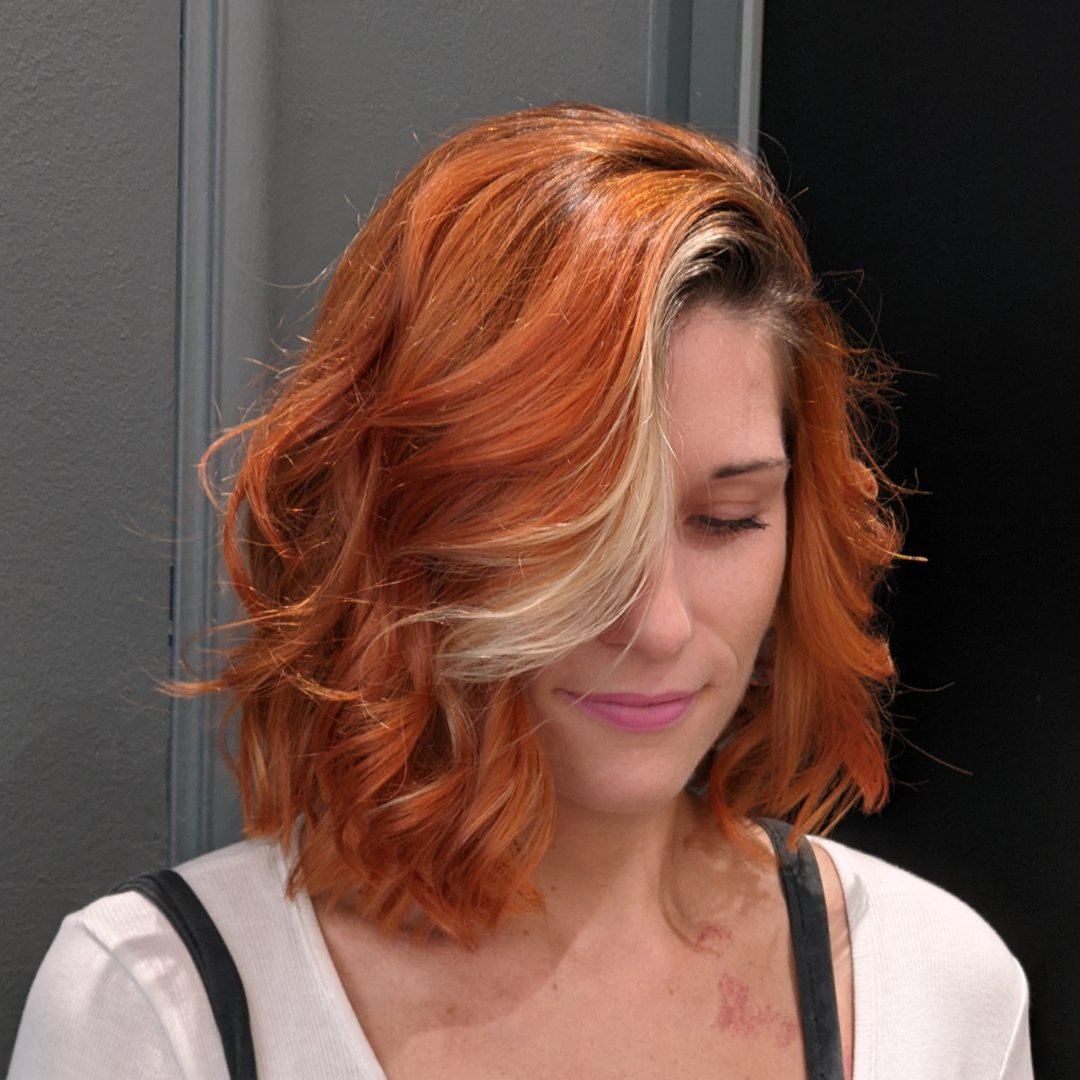 how can you incorporate this trend into your COLOUR ROUTINE?
For commercial application or more everyday salon application, the best way to incorporate the Sunset Touch colour palettes is into your highlights, balayage and toners. This works especially when it comes to blondes and coppers giving hints of the sunset colours using methods such peek-a-boo colour, small panels, or simply by applying an all over toner that will give the depth and glow of the sunset.
For brunette hair, you can use highlights, money piece or other techniques to add some warm red. You also can add a toner after you have a tint application to add some warmth to the the overall look and giving creating the perfect hair for Spring/Summer 2023.
How to make this trend editorial FASHION?
With the editorial fashion application of Sunset Touch as a stylist we can let our imagination fly. For these bolder and editorial looks you can apply the colour palette in multiple combinations, for example with a scalp bleach you can introduce a rose gold or pale pink finish. You can even draw inspiration from the colour of the sunset with the pink clouds and the baby blue sky and use these colours together (like the trans flag colours).
These are some of the suggestions of how Sunset Touch can be applied to a multitude of clients, but the most important thing to remember is that Sunset Touch was created with the idea of bringing the glow and beauty of a sunset into your hair.
You know how people always take photos of sunsets? Well get ready because now they will want to take pictures of your glowing hair!
Written by Apprentice Stylist André Fialho
---