New treatment: Skin rejuvenation with Comcit
We are so excited to announce a new series of revolutionary, rejuvenating Comcit face and body treatments available at the Gustav Fouche salon with our talented beautician Shenaz.  Say goodbye to fine lines and wrinkles stimulating new collagen production for younger, firmer skin.
The treatment offers the simultaneous delivery of Cryo Oxygen whilst our unique Micro-Channelling Roller creates hundreds of microscopic channels in the skin. This allows the topical infusion of powerful skin rejuvenation ingredients to be driven into the skin alongside cold oxygen.
This is the most effective and advanced skin rejuvenation system yet because it offers 4 simultaneous modes of action all designed to stimulate Collagen production.
1. Cryo Oxygen – Freezing cold oxygen is pushed into the skin to stimulate, energise and cool the skin to make the treatment pain free.
2. Micro-Channelling  - Creates micro channels in the epidermis/dermis junction to kick start a heal response process.
3. Topical infusion of active rejuvenating ingredients - are more effectively pushed into the skin layers as they have tiny channels to penetrate through.
4. Oxygen infusion – "A healthy and radiant skin is a breathing skin, where oxygen exchange between the cells functions perfectly. All living cells in the epidermis require and consume oxygen."
- Ageing lax skin of the face and neck.
- Acne prone skin (particularly effective due to the anti-bacterial effects of both the oxygen and infusion).
- Reduction of Stretch marks.
- Body Treatments, tops of arms, stomach, thighs and hands.
- Increases skin firmness.
- Delivers deep penetration of our active COMCIT ™ Skin Infusion Serum into the skin layers thereby plumping and smoothing lines and wrinkles.
- The most advanced method of replacing lost moisture to the skin.
- Provides oxygen to all levels of the skin.
- Ensures a more hydrated skin.
- Stimulates collagen production at a cellular level.
- Reverses the damage caused by free radicals.
- Allows the entire face and neck to be treated in a single session, with particular attention paid to the client's areas of concern.
- Allows the client to return to a normal lifestyle immediately, with no down time or interruption to daily routine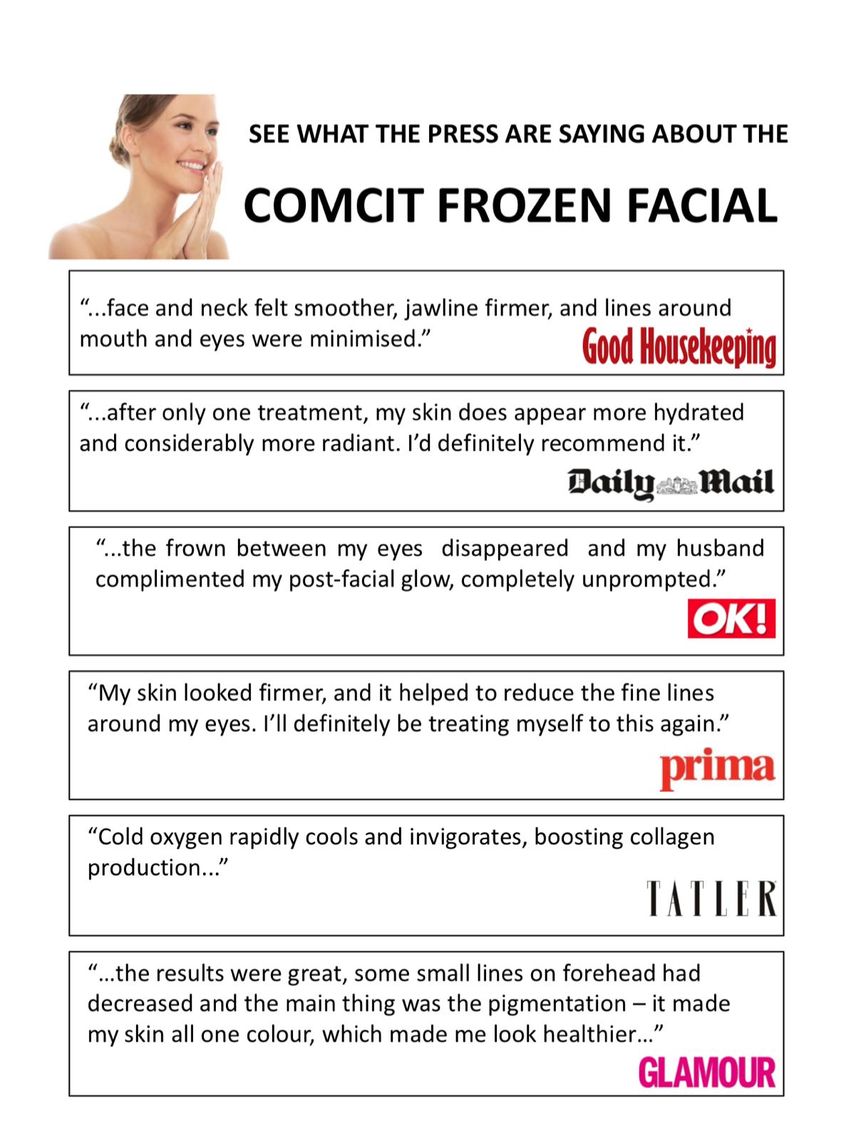 To book in with Shenaz for your Comcit facial, please call or email the salon.
---