Self Care Gifts for the Lockdown Bride | With Team Hen
Categories / our thoughts
Now more than ever the 2021 lockdown bride deserves a little luxurious self care and, luckily for you, the latest Instagram-worthy arrivals from Team Hen are just the ticket. 
If your wedding to-do list is proving stressful (not to mention the state of your roots) nothing quite beats sliding into the tub with your favourite glossy, a glass of champagne and Team Hen's abundant array of self care products. And, with regards to the roots situation, it's definitely worth reading Gustav Fouche's previous post on tips to hide colour regrowth. You're welcome. 
Embrace a little slow living with our latest arrival, our Luxury BrideChilla Himalayan Salt Blend Bath Soak. Crafted from a mix of the finest Himalayan Pink Salt, Epsom Salt, Dried Rose Petals and Lavender, our luxurious soak not only smells divine but melts into a warm bath leaving a calming aroma of lavender and rose. We suggest pairing with a glass of champagne or rosé and the latest edition of your favourite magazine.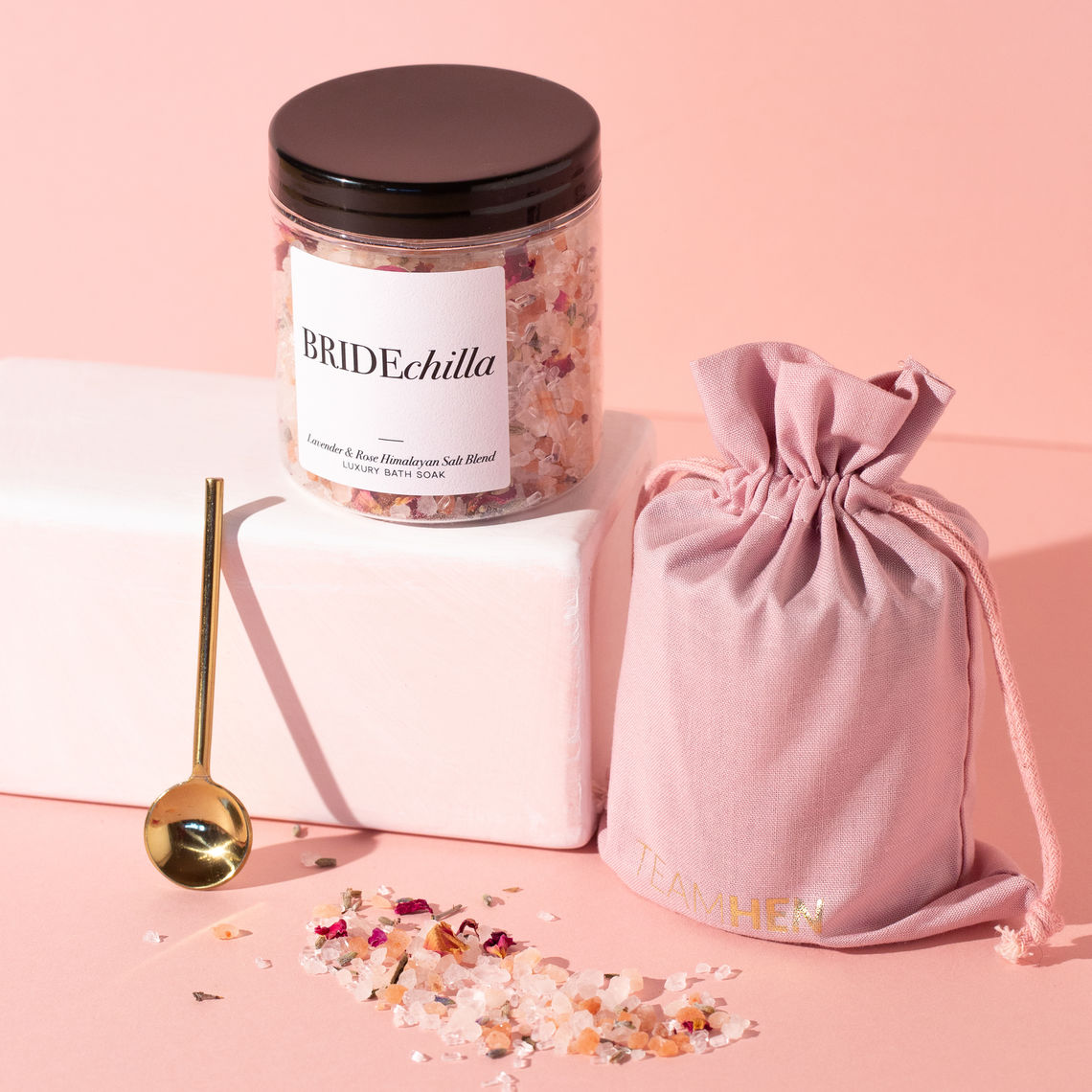 Indulge your senses with Team Hen's Beautiful Bride Luxury Candle. This lovingly made, hand-poured delight arrives in an organic cotton pouch and will look as good in your bathroom as it does on your Instagram feed. Breathe in its delicate notes of Sparkling Rosé and Pomelo, and delight in its effervescent aroma of pink fizz, sweet grapefruit, Brazilian orange and pink pomelo, all enlivened with hints of tart rhubarb and fresh, juicy watermelon. Now available in pink or white!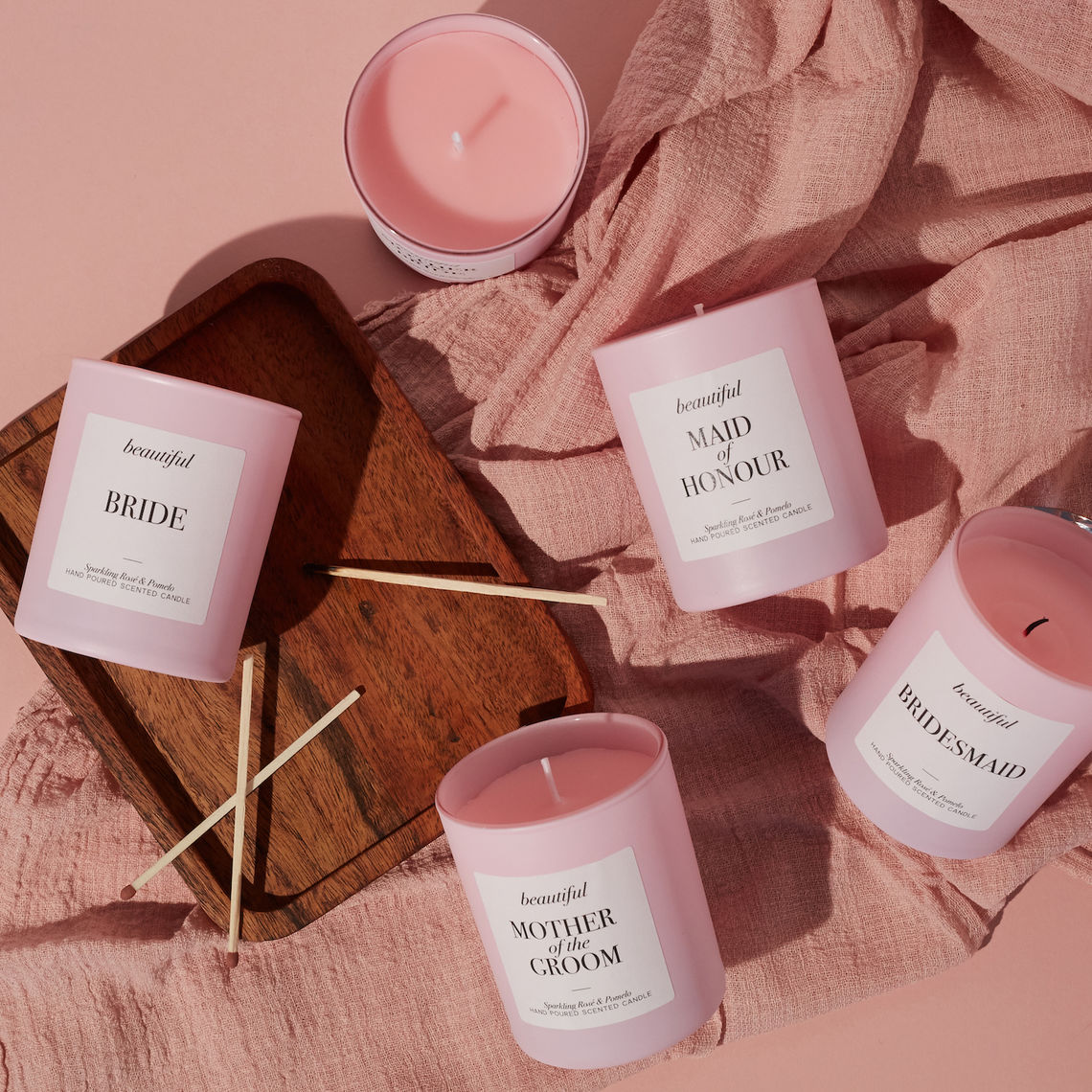 Credit: Beautiful Bride Luxury Candle, £8.99, Team Hen
Generously scented, our heart-shaped wax melts are perfect for creating a more relaxing, luxurious environment. Delight in their fragrant array of sparkling rosé notes blended elegantly with sweet grapefruit, Brazilian orange, pink pomelo, hints of tart rhubarb and fresh, juicy watermelon. Plus, they make for the perfect gifts for your bridesmaids too.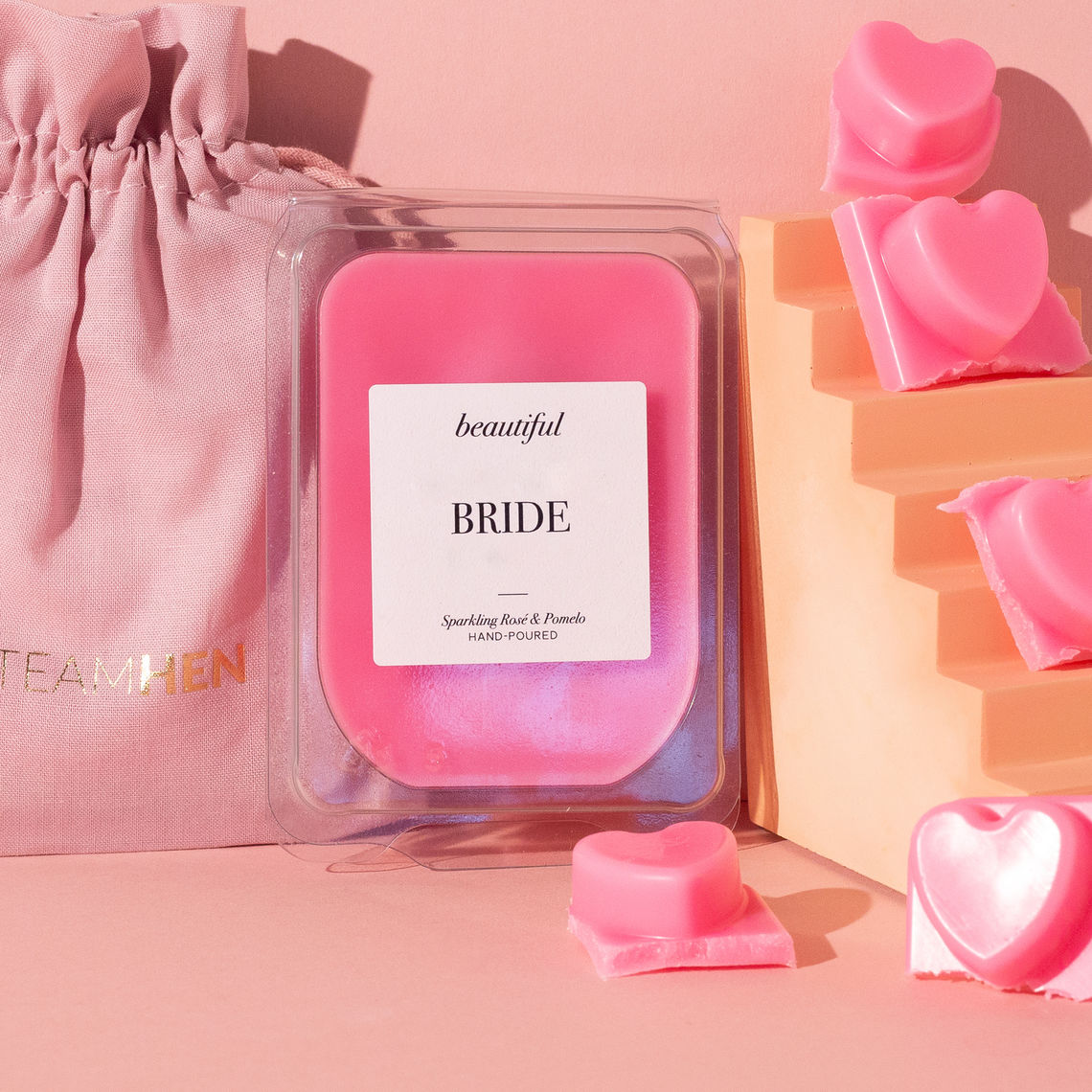 This beautifully designed white robe with pink embroidered detailing is the perfect accessory to slip on pre, during and post-self care routine. Not only that, it's heavenly for pulling on during the morning of the big day itself (whilst you get prepped and pampered by your team of wedding hair and makeup artists). Perfect for pairing with champagne and slippers too, might we add.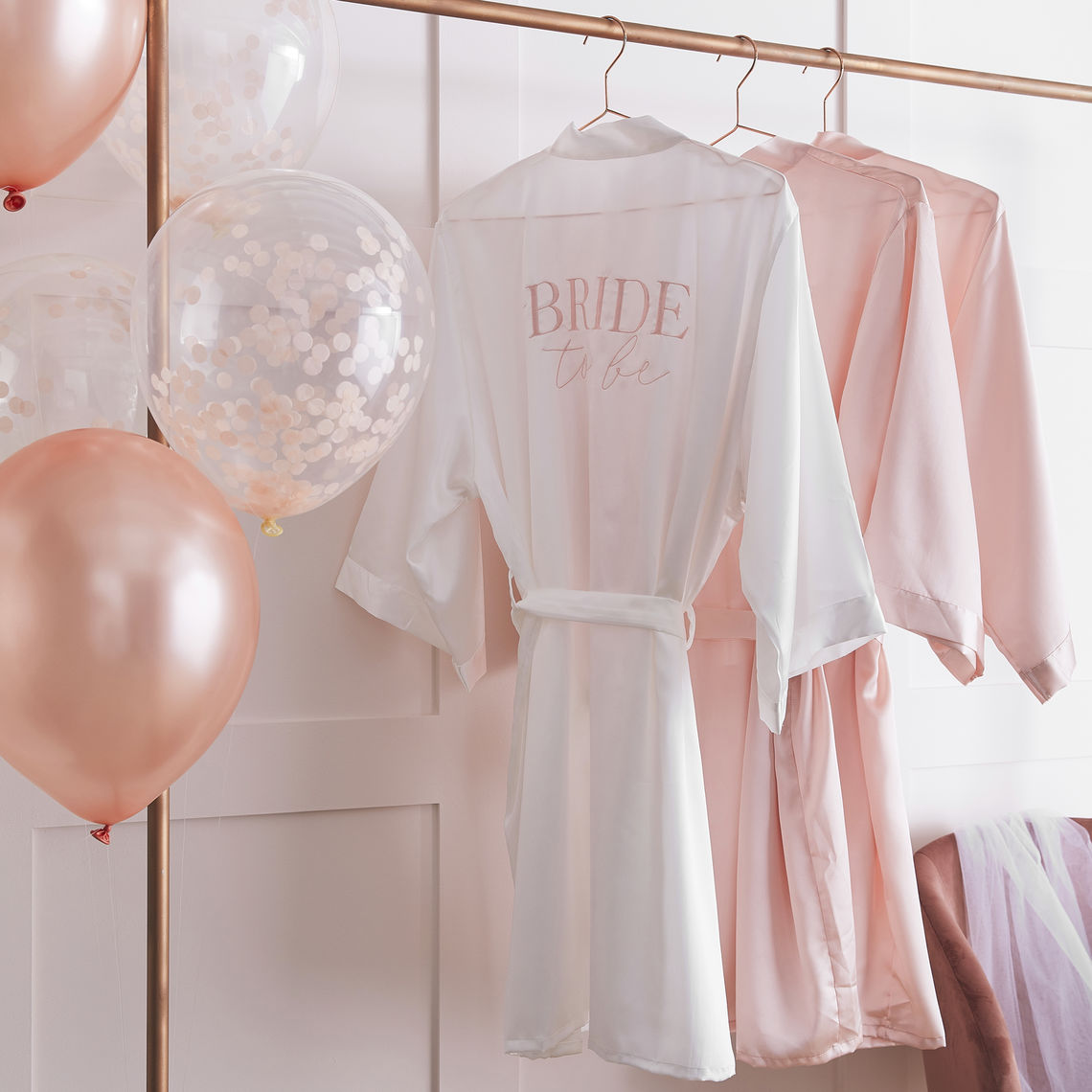 …in glittering style with our sassy Bride Diamanté Silver Hair Slide. Ideal for holding back your hair while you luxuriate in the tub, not to mention perfect for the hen party, our glimmering hair slide will remind everyone of your newly-engaged status 24/7. What more could you want?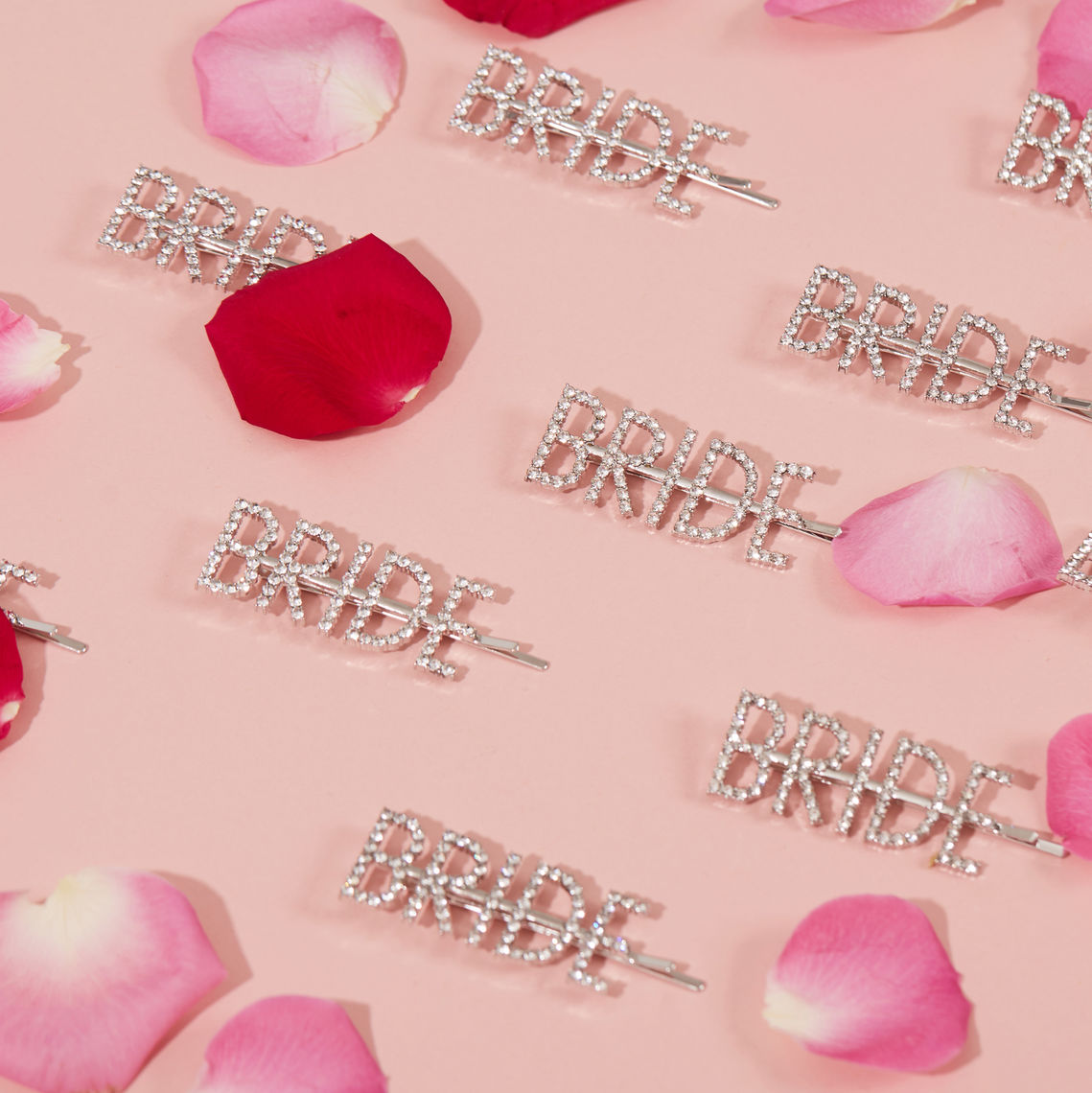 ---